The first Cryfe product is now available for sale!
« Cryfe, the only AI that assists you with your interviews by enhancing your skills »
Three ways to discover Cryfe
3 packages let you use Cryfe in an optimal and ethical way.
Our goal is to help you understanding Cryfe, and more specifically to give you the keys to the analysis of the congruence.
Once you master the software, you will be able to use it independently.
You will then be able to enjoy additional user licenses depending on your needs, and on the number of profile analysis required.
Available Packages
Exclusive introductory offer: 10% off on all packages for any subscription before February 28, 2022!
Starter
250.-
Unique Use
Discover Cryfe's potential
Comfort
4'750.-
1 month
Get basics to be autonomous
Premium
8'450.-
1 month
Use Cryfe at best
45' visioconference
1 day
Access the Validation Incongruence Practice (VIP©*)
Analysis duration (in minutes)
Number of analyses supervised by a profiling expert
30′ Coaching / feedback in conference call
Continue with: monthly or annual licence and analyses packs
*The VIP© is a technique for validating the authentic response of your interlocutor.
The Starter pack is available only to people who have already followed our training courses or who are professionals in congruence analysis. It is also recommended for people who wish to perform occasional analyses without subscribing to a subscription, or having advanced profiling skills (expert and training).
The Comfort and Premium offers give you all the tools to meet your interlocutor in all his potential.
The rates displayed do not include VAT.
Offer process
Example of the Premium offer process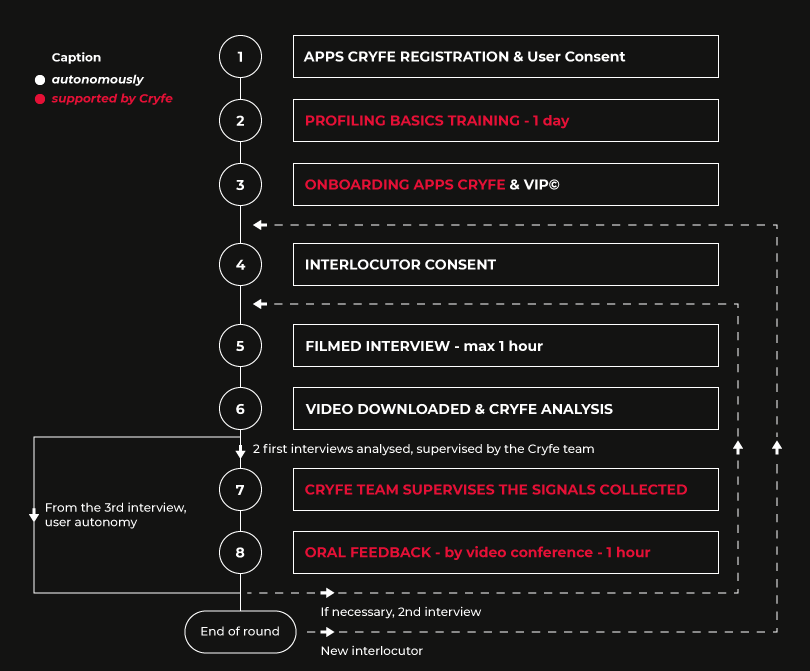 Continue with a Cryfe licence
Licences & Analyses
Access Cryfe independently with a user license and analysis packages.
The user license gives you:
access to the platform
storage of videos
access to the VIP method
access to webinars
Licenses are payable annually per user.
The analysis packs ensure the processing of your video interviews by the AI for a maximum duration of 60 minutes.
Basic rates
Basic Subscription
One licence
+
2 analyses
CHF 2'500.- / month
Each analysis pack is valid for 12 months (unused tests are lost). The rates displayed do not include VAT.
We remain at your disposal to follow up on your first choice and advise you at any time.
If you need more analyses or user licenses, you can also contact us for a custom offer.
*Cryfe can apply modifications at any time. Please contact us for any additional request.